You are here
Back to top
The Super Easy Teen Cookbook: 75 Simple Step-by-Step Recipes (Super Easy Teen Cookbooks) (Paperback)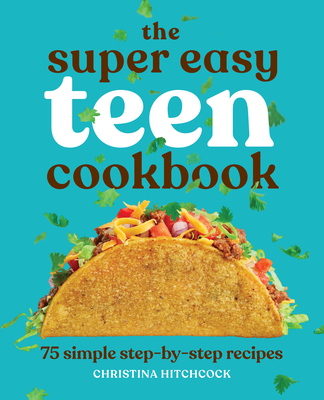 Description
---
Build confidence and kitchen skills with 75 deliciously easy recipes just for teens
Whether you already have some cooking know-how or your kitchen skills are limited to pressing buttons on the microwave, now you can create your own flavor-packed, homemade meals—without a hassle.
The Super Easy Teen Cookbook
is filled with recipes for breakfast, lunch, dinner, dessert, and snacktime—all of which you can easily prepare without any cooking experience.
The recipes in this teen cookbook have detailed, step-by-step instructions and use only easy-to-find, affordable ingredients. No crazy prep work, no boring flavors, and no help from adults required—just dozens of fuss-free favorites like Fluffy Chocolate Chip Pancakes, Vegetarian Miso Ramen, and Parmesan-Crusted Chicken. Let's make something delicious!
The Super Easy Teen Cookbook
includes:
Quick start guide—Explore helpful pointers for successful cooking, from safety tips to suggestions for stocking your kitchen with essential tools and ingredients.
Handy tips and tricks—Discover creative ways to switch up the flavors of the recipes in this unique teen cookbook, with ingredient swaps and substitution suggestions for endless variety.
Cooking terms explained—This teen cookbook helps you build up your cooking vocabulary with straightforward definitions for common culinary terms.
Lay the foundation for a lifetime of tasty cooking with
The Super Easy Teen Cookbook
.
About the Author
---
CHRISTINA HITCHCOCK is the creator of the popular food blog, It Is a Keeper. She's passionate about sharing satisfying dishes made from everyday ingredients. Her award-winning recipes have been featured on television, in national magazines, and on numerous online sites. For more information, follow her on Facebook @itsakeeper, and on Instagram, YouTube, Twitter, and Pinterest @itsakeeperblog.

Praise For…
---
"The Super Easy Teen Cookbook is a great gift for any teen who wants to learn how to cook. Christina does an excellent job of sharing step-by-step instructions for simple and delicious recipes that are geared toward teens who want to cook. She offers advice on what to do before you start cooking, explains the kitchen tools needed for the recipes, and includes safety instructions on how to not get hurt or sick in the kitchen. I love how Christina took her experiences learning how to cook with her mom and grandmother and implemented her knowledge into writing this cookbook. Christina's fun style shines through in each recipe of this colorful and beautifully photographed cookbook." —Shelby Law Ruttan, Author of The One-Pot Paleo Cookbook and Creator of Grumpy's Honeybunch

"This essential cookbook provides the confidence and encouragement teens need to bring their favorite meals to life. It builds lifelong skills while promoting creativity and independence in the kitchen. Packed with easy instructions, expert tips, and valuable kitchen smarts, it will excite and inspire the young chef in your life to cook." —Denay DeGuzman, Founder of Confetti and Bliss

"The Super Easy Teen Cookbook is the perfect cookbook for every teen. The recipes strike the right balance between kid and grown-up both in terms of the type of food and the difficulty of the instructions. From breakfast to dessert and comfort food to lighter fare, Christina has covered everything. The detailed instructions make it easy for teens to follow the recipes, even if they have limited experience in the kitchen. Hands down, this is the best book for helping your teen master the important life skill of cooking meals they (and others) will actually enjoy!" —Corinne Schmitt, Founder of Wondermom Wannabe

"This is a must-have cookbook for every teen and family. My daughter loves to cook, and this cookbook is going to be one she refers to all the time. Christina gives so many helpful tips for success and safety in the kitchen. Her recipes are super creative, and they will entice not just the teens in the kitchen—everyone will love these delicious recipes. From her mouthwatering Cinnamon Raisin Breakfast Couscous and Taco Tartlets to her drool-worthy S'mores Sundae, the creativity in this cookbook will keep you coming back for more." —Eileen Kelly, Author of Simply One Pot Cookbook and Quick and Easy 5-Ingredient Cookbook

"As a huge advocate of getting kids in the kitchen myself, I am loving Christina Hitchcock's new cookbook, The Super Easy Teen Cookbook. The book is laid out in an approachable and engaging way for teens (and tweens) to understand and is full of recipes they and their families will enjoy! This book will empower kids in the kitchen, unleash their creativity, and ultimately make them confident home cooks!" —Colleen Kennedy, Creator of Souffle Bombay and Author of 30-Minute Cookbook for Beginners and Kid Chef Every Day