You are here
Back to top
A Catholic Vote for Trump: The Only Choice in 2020 for Republicans, Democrats, and Independents Alike (Hardcover)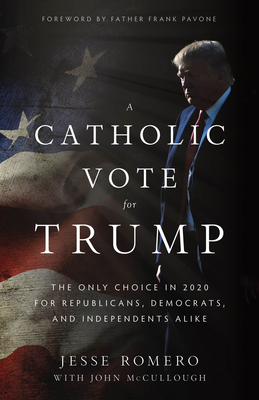 $27.95
Email or call for price
Description
---
The book that all Catholic voters need to buy, read, and then share with their family and friends before the 2020 election (Or better yet, buy them all copies.)
If you are already a Trump supporter, it will provide you with the arguments needed to better articulate your support for him.
If you are a Republican who voted against him in 2016, it will outline why you, as a conservative-leaning Catholic, should vote for him in 2020.
If you are a non-radical Catholic Democrat, it will convince you, if your party's candidates have not done so already, that the Democrat leadership does not actually care about you and your concerns, but Donald Trump does.
If you are an Independent, it will convince you that the way in which the D.C. establishment of both parties, "the Swamp," so ferociously opposed Trump means he must be doing something right.
And if you are a Hispanic Democrat, Romero will tell you why he supports Trump on immigration and why you should too.
In these pages, Romero and McCullough combine extensive research, straight talk, and a humorous, punchy style with quotes from the Catechism, the popes, and some of the best Catholic writers and thinkers of the 20th century--and some non-Catholics as well--to make the case that Donald Trump is the only choice in 2020.
About the Author
---
Jesse Romero is a long-time Catholic evangelist and a retired veteran of the Los Angeles County Sheriff's department. He holds an undergraduate degree in Liberal Arts from Mount St. Mary's College in Los Angeles and a graduate degree in Catholic Theology from Franciscan University of Steubenville. He speaks frequently around the country and is the popular host of two radio shows. To learn more about Jesse and his mission, visit www.jesseromero.com. John McCullough is a writer and editor. Over the years he has worked as a teacher, newspaper feature writer, salesman, and magazine editor but his favorite occupations, or vocations rather, are those of husband and father.