You are here
Back to top
Fools, Frauds and Firebrands: Thinkers of the New Left (Paperback)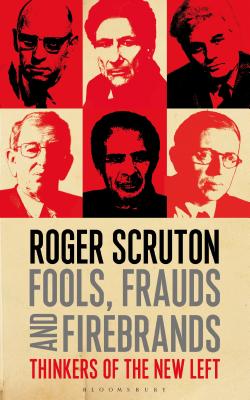 Email or call for price (781) 721-5933
Description
---
A devastating critique of modern left-wing thinking from a leading political philosopher.
In Fools, Frauds and Firebrands, philosopher Roger Scruton, one of the leading critics of leftist orientations in modern Western civilization, examines the thinkers who have been most influential on the attitudes of the New Left. What does the Left look like today, he asks, and how has it evolved? Is there any foundation for resistance to its agenda without religious faith?
Scruton begins with a ruthless analysis of New Leftism and concludes with a critique of the key strands in its thinking. He conducts a reappraisal of such major left-wing thinkers as: E. P. Thompson, Ronald Dworkin, R. D. Laing, Jurgen Habermas, Gyorgy Lukacs, Jean-Paul Sartre, Jacques Derrida, Slavoj Zizek, Ralph Milliband and Eric Hobsbawm.
Scruton's exploration of these important issues is written with skill, perception and at all times with pellucid clarity. In addition to assessments of these thinkers' philosophical and political contributions, the book contains a biographical and bibliographical section summarizing their careers and most important writings.
About the Author
---
Sir ROGER SCRUTON is a writer and philosopher who has published more than forty books in philosophy and politics, including Kant and An Intelligent Person's Guide to Philosophy. He is widely translated. He is a fellow of the British Academy and a Fellow of the Royal Society of Literature. He teaches in both England and America and is a Senior Fellow at the Ethics and Public Policy Center, Washington D.C. He is currently teaching an MA in Philosophy for the University of Buckingham.
Praise For…
---
"The book is a masterpiece, its rather too clever title notwithstanding. In crisp, sometimes brilliant prose, Mr. Scruton considers scores of works in three languages, giving the reader an understanding of each thinker's overarching aim and his place within the multifaceted movement known as the New Left. He neither ridicules nor abuses the writers he considers; he patiently deconstructs them, first explaining their work in terms they themselves would recognize and then laying bare their warped assumptions and empty pretensions." —The Wall Street Journal
"Scruton's book is not the dispassionate examination and measured assessment of philosophical arguments typical of analytic philosophers. It is a polemical dissection and indictment of the perceived destructive aims and tactics of the left. Earlier chapters on Sartre and Foucault, and on members of the Frankfurt School, particularly Adorno, are the most engaging." —Samuel Freeman, The New York Review of Books
"Eminent British philosopher and polymath Scruton gives a sharp-edged, provocative critique of leading leftist thinkers since the mid-20th century . . . complex and erudite." —Publishers Weekly
"Caustic, highly recherché, and simply great fun to read for the questing intellectual soul." —Kirkus Reviews
"[H]onestly assesses the political and philosophical contributions of the Left [and] addresses what is likely our most pressing question: 'Can there be any foundation for resistance to the leftist agenda without religious faith?'" —Catholic World Report