You are here
Back to top
What Color Is My World?: The Lost History of African-American Inventors (Hardcover)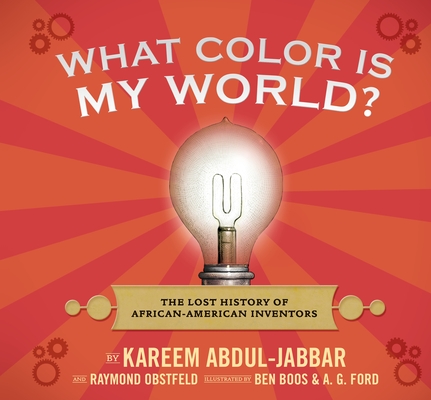 $17.99

Usually Ships in 1-5 Days
Description
---
Kareem Abdul-Jabbar, basketball legend and the NBA's alltime leading scorer, champions a lineup of little-known African-American inventors in this lively, kid-friendly book.

Did you know that James West invented the microphone in your cell phone? That Fred Jones invented the refrigerated truck that makes supermarkets possible? Or that Dr. Percy Julian synthesized cortisone from soy, easing untold people's pain? These are just some of the black inventors and innovators scoring big points in this dynamic look at several unsung heroes who shared a desire to improve people's lives. Offering profiles with fast facts on flaps and framed by a funny contemporary story featuring two feisty twins, here is a nod to the minds behind the gamma electric cell and the ice-cream scoop, improvements to traffic lights, open-heart surgery, and more — inventors whose ingenuity and perseverance against great odds made our world safer, better, and brighter.
Back matter includes an authors' note and sources.
About the Author
---
Kareem Abdul-Jabbar is one of the most famous and accomplished basketball players in U.S. history. Since retiring from the sport, he has committed himself to bringing history and social studies to young people and has written seven books, including the New York Times bestseller On the Shoulders of Giants: My Journey Through the Harlem Renaissance, co-authored by Raymond Obstfeld. Kareem Abdul-Jabbar lives in California.

Raymond Obstfeld is the author of more than forty books of fiction and nonfiction and is a professor of creative writing. He lives in California.

Ben Boos (1971-2011) is the author-illustrator of Swords: An Artist's Devotion and Fantasy: An Artist's Realm.

A. G. Ford is the illustrator of Goal! by Mina Javaherbin and the New York Times bestseller Barack by Jonah Winter, among other titles. A. G. Ford lives in Texas.
Praise For…
---
A purposeful but appealing presentation of information about accomplished lives.
—Kirkus Reviews

It's an entertaining and often surprising exploration of lesser-known innovators, past and present.
—Publishers Weekly

Young Herbie and Ella are disappointed with the dilapidated state of their new house, and cranky with the didactic handyman, Mr. Mital, who seems intent on instructing them in African-American history. "There's more to our history than slavery, jazz, sports and civil rights marches," he insists. But he quickly gains their attention with stories of little-known inventors, which appear around them in foldout pages, with notes and peanut-gallery remarks penciled in by the kids. Some developments were life-changing, like open-heart surgery or food preservation, and some pure fun.
—Newsday

Filled with great illustrations, the book features fascinating profiles of subjects ranging from a pioneer of open-heart surgery to the inventor of the Super Soaker water gun.
—Sports Illustrated Kids

A playful history.
—USA Today

Get ready to have your mind blown with this fun book. It tells the story of twins who discover the amazing stories of African American inventors whose creations changed your world...The book has lift flaps and fast facts that makes learning so quick and easy.
—Washington Post

A highly readable tale full of fun facts about creators of color.
—St. Louis Post-Dispatch

An inspiring book that broadens the definition of "inventor" and shines a light on many talented African-Americans throughout history.
—San Francisco Book Review

This introduction to lesser-known African American inventors just might inspire kids to create their own history-changing inventions.
—Instructor Magazine