You are here
Back to top
The Almost Fearless Hamilton Squidlegger (Hardcover)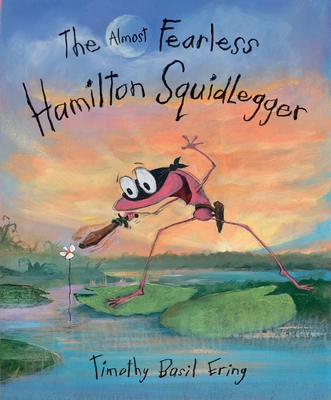 Description
---
An endearing tale of a boy overcoming his bedtime fears with a little help from Dad — and the promise of wormcake in the morning.

Hamilton Squidlegger is fearless! Well, almost. During the day he can best all the frackensnappers, skelecragons, and bracklesneeds in the swamp, but at night he quakes in terror. Will his father be able to help Hamilton remain fearless in his own mud all night? Timothy Basil Ering brings his signature energetic touch to this sweet story of father and son.
About the Author
---
Timothy Basil Ering is the illustrator of the Newbery Medal winner The Tale of Despereaux by Kate DiCamillo, Finn Throws a Fit! by David Elliott, and Snook Alone by Marilyn Nelson, as well as the acclaimed author-illustrator of The Story of Frog Belly Rat Bone and Necks Out for Adventure! He lives in Kingston, Massachusetts, with his wife and sons.
Praise For…
---
With a wholehearted commitment to silliness, Ering turns a bedtime anxiety tale into a swashbuckling adventure. He paints as exuberantly as he writes, scumbling, dripping, and swabbing mossy green swamps and orange sunsets. ... Ering's (and Hamilton's) derring-do should make readers forget all about their own anxieties.
—Publishers Weekly (starred review)

Ering's pictures splice together spindle-legged, popeyed creatures, etchy linework, and lush layers of washy, brushy, splotchy, gorgeously colored paint. ... Appealing—and empowering.
—Kirkus Reviews

This wild bedtime story incorporates playful language in a Skippyjon Jones–type fashion. "Fire-breathing frackensnapper" and "scrintalberry swamp" are just a few of the lively terms that help bring the story to life. While the wording is enjoyable, the images steal the show, blending a dreamlike surrealism with cartoon humor through full-bleed images created with acrylic paint on paper with ink, charcoal, and graphite.
—School Library Journal

This is definitely prose, but the book's poetic use of gently scary nonsense evokes "Jabberwocky," while its dreamy, lullaby qualities are reminiscent of "Wynken, Blynken, and Nod." The vivid acrylic illustrations in immersive full-bleeds counterpoint the ethereal whimsy with wobbly and thin pen and charcoal outlines, splotchy and textured paint, and a subdued and earthy color scheme. ... The art is particularly effective while Hamilton and the crew are sailing through the sky in a breathtaking foldout double-page spread. The often-gorgeous artwork and feel-good ending may make this an attractive bedtime story for parents willing to add a bit of quirkiness to the evening.
—Bulletin of the Center for Children's Books