You are here
Back to top
No Small Potatoes: Junius G. Groves and His Kingdom in Kansas (Hardcover)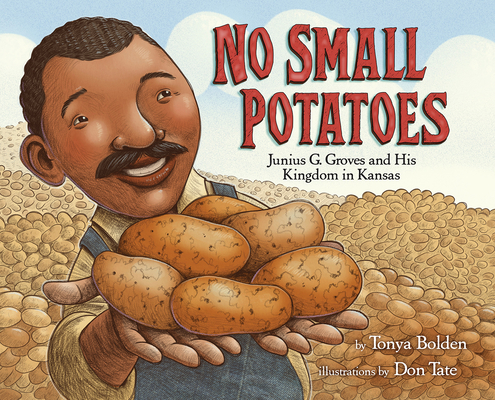 $17.99
Usually Ships in 1-5 Days
Description
---
Discover the incredible true story of how one of history's most successful potato farmers began life as a slave and worked until he was named the "Potato King of the World"!

Junius G. Groves came from humble beginnings in the Bluegrass State. Born in Kentucky into slavery, freedom came when he was still a young man and he intended to make a name for himself. Along with thousands of other African Americans who migrated from the South, Junius walked west and stopped in Kansas. Working for a pittance on a small potato farm was no reason to feel sorry for himself, especially when he's made foreman. But Junius did dream of owning his own farm, so he did the next best thing. He rented the land and worked hard! As he built his empire, he also built a family, and he built them both on tons and tons and tons of potatoes. He never quit working hard, even as the naysayers doubted him, and soon he was declared Potato King of the World and had five hundred acres and a castle to call his own.

From award winning author Tonya Bolden and talented illustrator Don Tate comes a tale of perseverance that reminds us no matter where you begin, as long as you work hard, your creation can never be called small potatoes.
About the Author
---
Tonya Bolden has authored, co-authored, and edited more than forty books, including Rock of Ages, 33 Things Every Girl Should Know, The Champ: The Story of Muhammad Ali, and Maritcha: A Nineteenth-Century American Girl, which was a Coretta Scott King Honor Award winner. She has been nominated for an NAACP Image Award and is the recipient of the Children's Book Guild of Washington, DC's Nonfiction Award for her work. She lives in New York City. Visit her at tonyaboldenbooks.com.

Don Tate is an award-winning author and the illustrator of numerous critically acclaimed books for children, including Poet: The Remarkable Story of George Moses Horton, which he wrote, and Whoosh! Lonnie Johnson's Super-Soaking Stream of Inventions by Chris Barton. He is also one of the founding hosts of the blog The Brown Bookshelf--a blog designed to promote awareness of the myriad African American voices writing for young readers, with book reviews and author and illustrator interviews. He lives in Austin, Texas, with his family. Visit him at dontate.com or follow him on Twitter at @devas_T.
Praise For…
---
"This a-peel-ing story will give readers a new appreciation for spuds."—Kirkus Reviews, starred review

"A charming mix of biography, history, agriculture, math, and lots of potatoes" —School Library Journal, starred review